ONLY WITH
DAILY: DLTS.
THE THERMOMETER
FOR OUR
COLD CHAIN.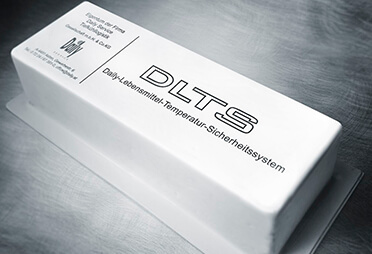 DLTS
Systematic innovation: we make perfect traceability of the cold chain possible.
IT GOES WITHOUT SAYING THAT WE CAN PRESENT STANDARD FOOD INDUSTRY QUALITY CERTIFICATES (IFS, BIO). YET THAT WAS NEVER ENOUGH FOR US. FOR THIS REASON WE DEVELOPED A UNIQUE TEMPERATURE MEASURING METHOD FOR OUR CUSTOMERS: THE DAILY FOOD TEMPERATURE SAFETY SYSTEM (DLTS in German). THIS GUARANTEES THAT THE COLD CHAIN IS NEVER INTERRUPTED DURING DELIVERY.
Whereas customary systems only measure the air temperature in the cooling are, our in-house development DLTS works with a certified testing compound which has the same temperature characteristics as sensitive food. An integrated wireless chip continually measures the temperature inside this compound and can be read out at any time during the delivery.
For our customers, the temperature graph saved when the goods are transferred provides fast and clear proof of the delivery quality. This transparency distinguishes us from our competitors and results in our customers trusting us implicitly. A fact that means much more than the numerous awards we have received for this pioneering innovation.